Soundbath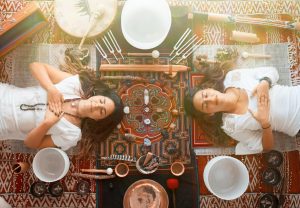 Victoria & Kim
Saturday 14.3
20:30-21:45
Soundbath is a healing and relaxing musical performances using singing bowls, crystal bowls, drums, and gongs to soothe the mind and body.
The sounds penetrate and stimulate every cell of our being, allowing us to reach a state of deep relaxation. The sound vibrations help reduce stress and remove blockages in the mind. The sound of the gong fully harmonizes and creates balance in the body while increasing regenerative processes.
During the peaceful state of mind brought on by this sound bath, the body's natural healing process is profoundly supported. The vibrations generated by the healing instruments stimulate theta brain frequencies which are commonly associated with deeper states of meditation. This creates a favorable healing effect upon the body's entire system.
Workshop price -117 NIS