"Continuity of practice"
Sitting Meditation with Eitan Bolokan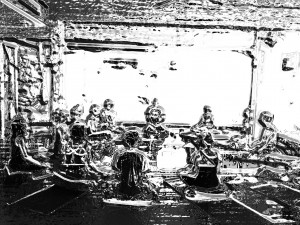 Saturday November 29th
15:00-18:00
The meeting is organised and guided as Dana – Payment as you wish and able

We invite you to practice sitting meditation. Together we will practice two rounds of forty minutes each,with a ten-minute break between rounds. After the second round we will have a discussion about the concept of "continuity of practice", as it appears in the writings and stories of Zen tradition.
Please note that the guidelines for the practice will be given at the beginning, so be sure to arrive on time. It is possible to practice one of the two round, just please make sure you leave or arrive during recess only.
The meeting is organised and guided as Dana – Payment as you wish and able
Schedule 
15: 00- 15: 20 -opening and explanation
15: 30-16: 10 Bell first meeting
16: 10-16: 20 Bell break
16: 20-17: 00 second bell
17: 00-17: 05 bell break
17:05 – 17: 45 Talk: What is it "continuity of practice"?